Banana has many nourishing properties that can repair damaged locks within a matter of days. It can make your hair super soft and silky. You can mix various ingredients with a banana to make some amazing hair masks. Do you want to know how to create this magic potion right in the comfort of your home? Check out the list of banana hair masks that I have compiled that can end all your hair troubles. But before that, let's get to know the benefits of incorporating banana into these masks.
Benefits Of Banana For Hair
Banana is an excellent source of proteins, vitamins, natural oils, biotin, and magnesium. It offers a ton of benefits for your hair. These include:
It keeps your hair soft and damage-free.
It prevents breakage and split ends.
It maintains the natural elasticity of your hair.
It strengthens and volumizes fine hair.
Isn't that amazing? Let's check out the different hair masks that you can make with this amazing ingredient.
1
Banana And Olive Oil Hair Mask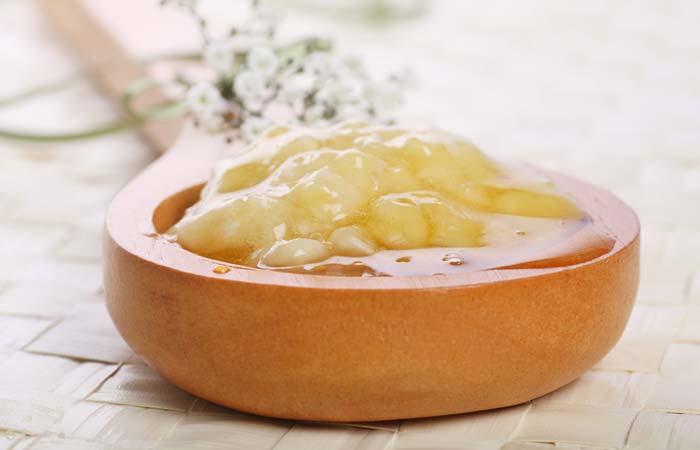 Ingredients
1 ripe banana
2 tablespoons olive oil
Preparation
Blend the ripe banana until there are no chunks left.
Add olive oil to this banana paste and mix thoroughly.
Transfer the mixture to a clean bowl.
How To Apply
Section your hair and start applying the mixture from the roots with the help of a hair color brush.
Slather as much of the hair mask as you can, covering every bit of your scalp and hair.
Tie your hair in a loose bun and cover it with a shower cap to prevent dripping.
Leave the hair mask on for 30 minutes.
Rinse the mask off with cold water before shampooing your hair.
Why This Works
This hair mask conditions every hair strand on your head. Olive oil has rich moisturizing properties that help minimize breakage and split ends. This mixture is also rich in vitamin A, vitamin E, and antioxidants. You can replace your conditioner with this hair mask as it gives you soft and silky hair within a couple of applications. It is ideal for dry hair.